The European Atari Jaguar Festival, "ejagfest" in short, took place on November 5th and 6th of this year in Kleinenbroich (between Düsseldorf and Mönchengladbach), Germany. We celebrated the 30th anniversary of the Atari 7800 this year which has been released nation wide, 30 years ago in 1986 in the USA.
Here you can find an overview of the highlights of this year.

16 32 bit Systems:


Nick Harlow, the retailer from UK offered used and new hard- and software for different Atari systems. Due to the fact he closed down his webshop, he offered good clearence prices. We are looking forward to meet him again next year again.

DerLuchs (neXGam):


Showed and sold some of his homebrew games for Jaguar and Vectrex.

Ausweichmanöver (Jaguar CD)
Absorbierer (Jaguar CD)
Arne – Jäger des Jags (Jaguar CD)
Brecher (Vectrex)
Dead of Knight (Vectrex)
Eineiig (Vectrex)
Flak (Vectrex)
Inkubationszeit (Vectrex)
N.E.L.S (Vectrex)
Staiga (Vectrex)
Vectrexroli – Das Spiel (Vectrex)
Der Luchs – Vectrax (Audio)
Triac – The Powers of Two (Audio)
back to newc45tle – the best is yet to come (Audio)

Marco Willig (McWill):


Showed his VGA-Screen hardware mod for the Atari Lynx and the Sega Game Gear. It improves the screen quality a lot. Further it provides an VGA-Out to play Lynx on external VGA displays and TVs. On Sunday he modified systems on side. This year he also unveiled his new hardware project as a world premiere. It's a FPGA based Handheld, whis was shown as working prototype.
Silvio Laute:
Showed some exhibits from his collection, some Pong machines like the Atari Pong – C-100, Atari Super Pong – C-140, Atari Super Pong Ten – C-180, Atari C-402 Ultra Pong Doubles, Atari C-380 Video Pinball and the very rare Sears Pinball Breakaway. Further some variants of the only DDR video game console, the Bildschirmspiel 01 (BSS01).


TXG_MNX:


Showed his Jaguar Kiosk. Atari used them to show the Jaguar at trade fairs and in shopping malls in the USA. It is very rare to find in Europe.

ST-Computer Magazine:


The german ST-Computer magazine was there as well. They showed and sold their latest issue of the magazine.

Nick Persijn:


Many remember him from his visit in 2013 when he sold his very good self made rotary controllers. This year he did this as well. On Sunday he also build them on site. Further, with permission of the developers he sold the Duranik Native-Demo and the homebrew game Martian Attack from Tursi on cartridge.
Christoph Podlech:
Showed his "P.I.T.S – Fahrschule for the Atari Lynx". This is a software that teaches people the rules of the road traffic and it was used in the mid nineties in driving schools.


Retrospiel:


Showed and sold homebrew for different retro-systems.

DragonBox Shop:


The Dragonbox shop presented the "MIST FPGA" Computer. This device emulates the most known and unknown 8 and 16 BIT computer and consoles. Everyone was able to try this device out at the show.

SainT (AtariAge):


Thanks to SainT. He sends us a Lynx SD card.  Everyone was able to try this device out at the show. It can play lynx games, homebrews and prototypes via SD card on your Lynx.

Zone 3 gaming area:


Thanks to "Zone3" we presented you a gaming area with beanbags for gamers and full of retro-gaming highlights.

AtariAge:


Thanks to the support from AtariAge, we were able to show some Atari homebrew highlights in the gaming area.

Gameplan:


The publisher is well known for high quality books about retro video games and home computer in germany. They offered some of the books at the ejagfest. Beside the german versions of "Spielkonsolen und Heimcomputer, Volkscomputer, Spielemacher and Joysticks" also the rare english version of the "Encyclopedia of Game Machines".
Further exhibitions:
A transparent Jaguar case was on display. It's a special edition, which was produced in spring of 2015 with the original Jaguar tooling. This limited run was sold to support the "RVGS" console. The system was later renamed to the "Colecovision Chameleon" and it was planned that they would also use this tooling. After some problems during the production of the console, the project was canceled. What is left, are this nice cases for the Jaguar. For the first time at an Atari event we showed you a HotRod. After Atari discontinued the Jaguar, they sold the tooling to a company who made dental cameras. The HotRod was the flagship product of them.
Competitions:
European Championship "Checkered Flag" in a 6-player network (Atari Lynx)
Fun-Cup "Mario Kart Double Dash" (Gamecube)
This year was the event's 16th anniversary and took place for the 2nd time in the location in Kleinenbroich. Let's celebrate Atari! The ejagfest took place at Hochstraße 26, 41352 Korschenbroich in Germany.
You can find more pictures of this event in the Gallery 2016 and reports in the Press Echo section. We would like to thank our guests, all helpers and our partners and supporters. You can find the facebook event here: link
Soure(s): ejagfest.de, youtube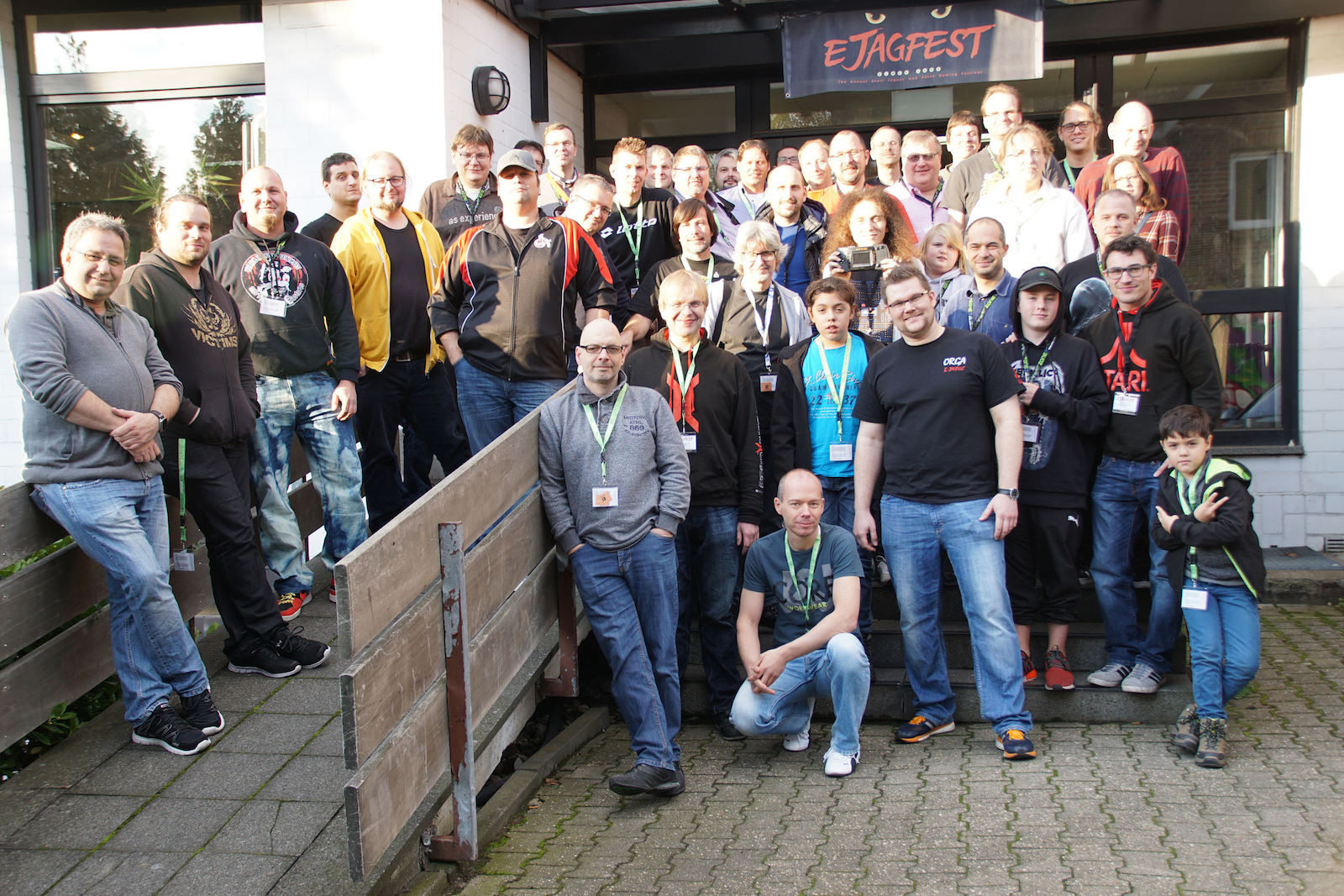 Support the ejagfest without costs: If you buy something by clicking our ebay partner links or banner, we get a small commission. The price of the item for you stays the same. So no costs for you.