Copyright
The text, images, graphics, sound, video and animation files and their arrangement are copyright and the laws protecting intellectual property. It is no use without permission of the owner of the site not for trading purposes or permitted to disclose or use on other websites.
A naming of company and / or brand names is made without checking for any third-party rights. The absence of a trademark or copyright note must not be concluded that these names and / or names are free from rights of third parties.
Named contributions and comments do not reflect the opinions of the owners of this site again. The copyright and responsibility for published content lies solely with the authors named in the individual posts.
All offers are not-binding and without obligation. The owner reserves the right to change parts of the pages or the entire offer without prior notice, to add to, delete or cease publication temporarily or permanently.
Liability
Despite the utmost care in compiling the owner of this site for the correctness or accuracy of the information contained is not guaranteed. The owner of this site disclaim all liability for damages incurred directly or indirectly from the use of.
The owner is anxious to follow in the copyrights of the graphics, sound documents, video sequences and texts, to use his own graphics, sound documents, video sequences and texts or to use license-free graphics, sound documents, video sequences and texts.
Links and banners
By judgment of 12 May 1998 (number 312 o 85/98), the 12th Civil Chamber of the District Court of Hamburg (germany) decided that one has to answer by placing a link on the contents of the linked site. This can only be avoided by expressly distancing oneself from such content.
The owner of the site explicitly point out that they have no influence on the design and content of linked pages. For this reason, the owners of this site dissociate hereby expressly from all contents of all linked pages on the entire site including all subpages. This declaration is valid for all links on the homepage and for all contents of sites to which links or banners.
For illegal, incorrect or incomplete contents and especially for damages resulting from the use or non-use of information presented there, only the provider of the site to which reference was not the one who has linked to these pages.
Legal validity of this disclaimer
This disclaimer is to be regarded as part of the internet publication which you were referred from this page. If sections or individual terms of this statement are not legal, no longer or not completely correspond to the remaining parts of the document remain unaffected in their content and validity.
ejagfest.de is a private internet publication of: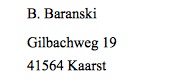 You can contact us here.