At Gamescom we find every year the latest and the greatest console an PC games. Not in the retro section which is an integral part of the exhibition for several years. Here was all attention focused on the classics.
Over 30 exhibitors showed numerous classic video game consoles, arcade machines, home computers, PC's  and much more on around 1300 square meters. Further there was lots of program at the stage, like mini concerts, Q&A sessions, book previews and so on. In addition to that, the "European Atari Jaguar Festival – ejagfest" was represented for the first time with its own stand.
On three Jaguar displays the games Atari Karts, Tempest 2000, Rayman, Super Burnout and Raiden were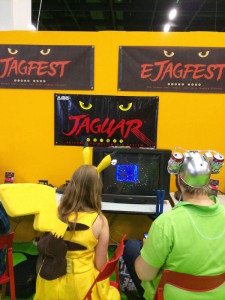 shown. There were ejagfest banners all around and even an original Atari Jaguar flag as they used it back in the days at big  trade fairs and events in the 90's was there. On comfortable seating guests could rest directly in front of our stand and recover from the exhibition stress or just watching other visitors playing. The interest in the cat was great, many visitors came back several times to the last Ataris home console and have fun. And that really should do a game console from Atari, bring fun. There were numerous discussions with interested retro friends. Some just wanted to try out the legendary Jaguar Pad into their own hands. Quite a few were pleasantly surprised by the supposedly worst controller ever. An overlay for e.g. direct weapons selection at FPS games just still impresses even more than 20 years later. The Jaguar logo looked very well at the show floor, we could get used to the sight.
Right next to the ejagfest, the Retro Gaming Connexion (RGC) stand was build up. The representatives of the french retro events visited the ejagfest several times in the past. They showed on two NUON displays an perfect supplement for the Jaguar. The games Tempest 3000 and Merlin Racer (Atari Karts 2) were playable. So you was able to see the spiritual successor of the Jaguar, with some sequels of various Jaguar games on it directly side by side.
The numerous gaming corners were stocked with Zone3 beanbags, which have proven themselves on the ejagfest in our gaming area as well. Besides corners with consoles from Nintendo, Sega and more, one of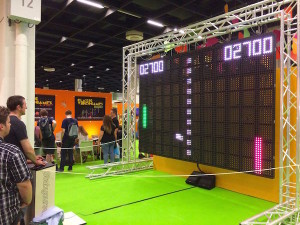 them was devoted exclusively to consoles from Atari. There was an Atari XL, an Atari 2600 and an Atari 7800 loaded with  various games like Pit Stop, Asteroids, Joust and more. The Atari home computers were represented by Atari ST and Atari Falcon at the booth of "Haus der Computerspiele". Further they showed some Pong consoles at another stand with a really nice looking Pong wallpaper behind the consoles. Pong and Tetris were also playable on a large LED wall. A real eye-catcher. Sven Vössing of Cinemaware campaigned again for his project, the Mega Drive conversion of "It Came from the Desert". This game is nearing completion. He told us that he could easily imagine Jaguar conversions of some Cinemaware classics, he just don't have contacts to Jaguar programmer at the moment. We understand this as an official call. 😉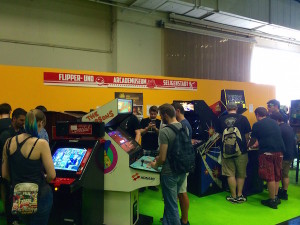 The English distributor Funstock UK had set up a large booth with posters and flyers about their products. They showed the new Retron 5 console, a hardcover coffee table book with the topic C64 and another one about Amiga. Even the Neo Geo X was advertised. The whole retro experience was rounded off by original arcade and pinball machines  that have been set up by the "Flipper und Arcade Museum Seligenstadt". On display, classics like The Simpsons, Magical Drop, Space Invaders and more.
There was so much more to see, among many playable home computers, new homebrew games for old systems, retro Web-Blogs represented themselves, a small art exhibition of paintings on the subject of video games and showcases full of treasures. E.g. the neXGam user Heiko Poppen showed his Thalion Software collection (1988-1994) for the Atari ST. There was really everything except boredom at the retro stand. Who visited the Gamescom and wanted a break from the hustle and bustle in the overflowing main halls, was at the right place. Fun for young and old. The young ones learned a piece of gaming history and culture and the older ones remembered back to the good old days. Next year you should definitely take a trip to this great exhibition, because it is just worth it.
Source(s): ejagfest.de