August is Gamescom time. In 2015 Europes largest games fair took again place in Cologne. The  ejagfest.de team was at each of the five days on site.
As an exhibitor in retro area we represented the ejagfest. The Jaguar could be tried out at several displays  and we spoke to many interested visitors to introduce them to Ataris last gaming console. For our ejagfest blog we took some photos of the show and visited some press events.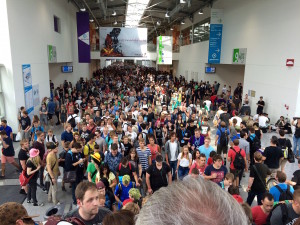 The Gamescom  had 345.000 visitors from 96 countries this year. This exceeds the figures from the last  year by  10,000 visitors. The 806 exhibiting companies showed their upcoming games on  193.000 square meters . The number of trade visitors increased by 5% to 33,200. So much for the figures.
Trends this year:
Virtual Reality wherever you look . Every publisher wants to be there and if they had no VR -only game , then at least they put a demo together to show at least something. Maybe the long promised Virtual Reality future is finally here. Since the mid nineties every publisher including Atari promised the holy grail in form of a head-set. It will be interesting to see, what we finally get, when Oculus Rift (PC), Project Morpheus (PS4) and the other devices finally arrive at the market. No trace of flying cars however.
Another trend was to have cut-scenes with real actors. The reboot of "Need for Speed" used real actors in the cut-scenes instead of ingame graphic. This was very popular in the nineties, thinking of Command and Conquer or the legendary Wing Commander 3 with actor Mark Hamill. I personally like such real actor featured video sequences. I'm ready for more new games using it.
Wing Commander 3 (1994) already had Cut-scenes with real actors. 
Our Gamescom highlights: Unravel (EA), Star Fox Zero (Nintendo), Retro-Booth, Mario Maker (Nintendo), Need for Speed (EA)
Source(s): gamescom.de, ejagfest.de
Gamescom 2015

_blank

Gamescom 2015

On Sunday, still crowded.

_blank

Gamescom 2015

Crytec, "Dino-Demo"

_blank

Gamescom 2015

Zenimax booth

_blank

Gamescom 2015

Zenimax booth

_blank

Gamescom 2015

Outdoor area Zenimax

_blank

Gamescom 2015

EA booth, Unravel

_blank

Gamescom 2015

EA booth

_blank

Gamescom 2015

EA booth

_blank

Gamescom 2015

EA booth, Star-Wars Battlefront

_blank

Gamescom 2015

EA, Star-Wars Battlefront

_blank

Gamescom 2015

EA, Star-Wars Battlefront

_blank

Gamescom 2015

Sony booth

_blank

Gamescom 2015

Ubisoft and Microsoft booth

_blank

Gamescom 2015

Anno 2205 print

_blank

Gamescom 2015

Ubisoft, Rabbids Experience

_blank

Gamescom 2015

Trackmania Turbo print

_blank

Gamescom 2015

Ubisoft, Just Dance 2016

_blank

Gamescom 2015

Microsoft Xbox One Elite Controller

_blank

Gamescom 2015

Microsoft Xbox One Elite Controller

_blank

Gamescom 2015

Microsoft, Rare Replay

_blank

Gamescom 2015

Microsoft booth

_blank

Gamescom 2015

_blank

Gamescom 2015

Nintendo, Indie-Area

_blank

Gamescom 2015

Nintendo, Fast Racing Neo

_blank

Gamescom 2015

Nintendo, Typoman

_blank

Gamescom 2015

Nintendo booth

_blank

Gamescom 2015

Nintendo booth

_blank

Gamescom 2015

Nintendo booth

_blank

Gamescom 2015

Nintendo booth

_blank

Gamescom 2015

Nintendo booth

_blank

Gamescom 2015

Nintendo booth

_blank

Gamescom 2015

Nintendo, Star Fox Zero

_blank

Gamescom 2015

Nintendo, Star Fox Zero

_blank

Gamescom 2015

ESL booth

_blank

Gamescom 2015

Total War, Warhammer

_blank

Gamescom 2015

Activision, Guitar Hero Live

_blank

Gamescom 2015

2K booth

_blank